International Women's Day 2021
Women in leadership: Achieving an equal future in a COVID-19 world
Every year men, women and girls push hard to achieve gender equality. The pay gap between men and women is over 30 percent, and the pandemic could set women's careers back by as much as ten years as they returned to the home to become primary caregivers for their children. This year's theme set by UN Women is: Women in leadership: Achieving an equal future in a COVID-19 world.
Across IWMI we're celebrating the women who are leaders both in their families and their communities; we're asking colleagues what they've achieved over the past 12 months, despite it being a tough year. Above all, we've shown the personal reserves of resilience and strength that women and men around the world have called on, and will continue to call on, to fight for equality, and to face an equal future together.
Women and water around the world
Worldwide, three billion people have no handwashing facilities at home, and two billion people use sources of drinking water contaminated by faecal matter. During the global pandemic, families must balance drinking and food preparation with sanitation and hygiene. Learn more about how IWMI's work relates to Covid-19.
In Kathmandu, Nepal, water shortages are acute, and most households only get access to around an hour's water supply per week from official or public sources. The alternative is a lifeline provided by vendors selling water from tankers which might be overpriced and is often polluted. It is common for families to spend around twenty percent of their earnings on water. Learn more about IWMI's work on better WASH planning and financing, as well as how women are shaping water policy in Nepal.
International Women's Day 2021 Quiz
New landscapes of water equality and inclusion
The Gender and Inclusion Strategy 2020-2023 of the International Water Management Institute (IWMI) supports implementation of the IWMI Strategy 2019-2023. This is done by ensuring that gender equality and inclusion are central to the Institute's three Strategic Programs – water, food and ecosystems; water, climate change and resilience; and water, growth and inclusion – and to its fourth crosscutting program pillar on digital innovations.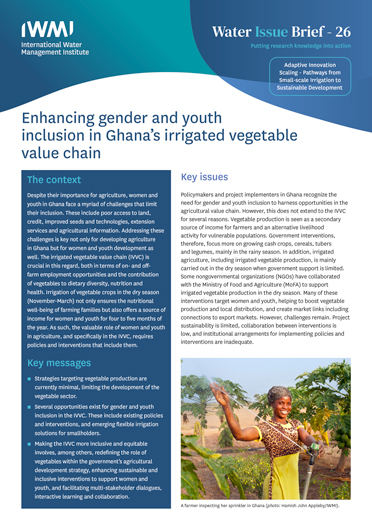 International Water Management Institute (IWMI). 2023.
Enhancing gender and youth inclusion in Ghana's irrigated vegetable value chain. Adaptive Innovation Scaling - Pathways from Small-scale Irrigation to Sustainable Development.
Colombo, Sri Lanka: International Water Management Institute (IWMI) 8p.
(IWMI Water Issue Brief 26)
[DOI]
More...
|
Fulltext
(3.60 MB)
---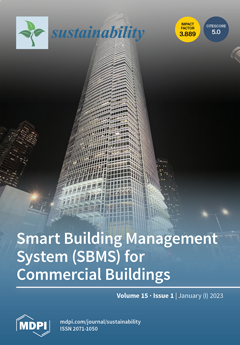 Mapedza, Everisto; Huyer, S.; Chanana, N.; Rose, A.; Jacobs-Mata, Inga; Mudege, N. N.; Tui, S. H.-K.; Gbegbelegbe, S.; Nsengiyumva, G.; Mutenje, Munyaradzi; Nohayi, Ngowenani. 2023.
Framework for incorporating Gender Equality and Social Inclusion (GESI) elements in Climate Information Services (CIS).
Sustainability,
15(1):190. (Special issue: Gender and Socially-Inclusive Approaches to Technology for Climate Action)
[DOI]
More...
|
Fulltext
(763 KB)
---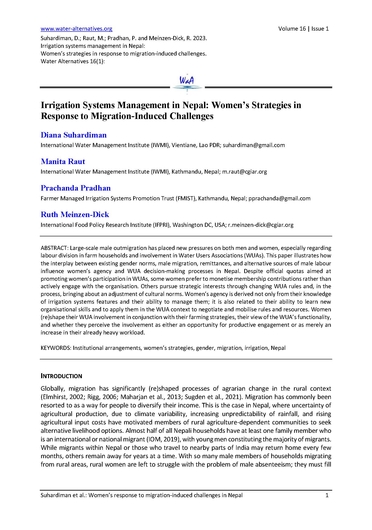 Suhardiman, Diana; Raut, Manita; Pradhan, P.; Meinzen-Dick, R. 2023.
Irrigation systems management in Nepal: women's strategies in response to migration-induced challenges.
Water Alternatives,
16(1):244-264.
More...
|
Fulltext
(418 KB)
---
Holmatov, Bunyod; Lautze, Jonathan; Uhlenbrook, Stefan. 2023.
The nexus across water, energy and food (WEF): learning from research, building on evidence, strengthening practice.
Natural Resources Forum,
47(4):817-841. (Special issue: Sustainable Water and Energy Solutions)
[DOI]
More...
|
Fulltext
(2.67 MB)
---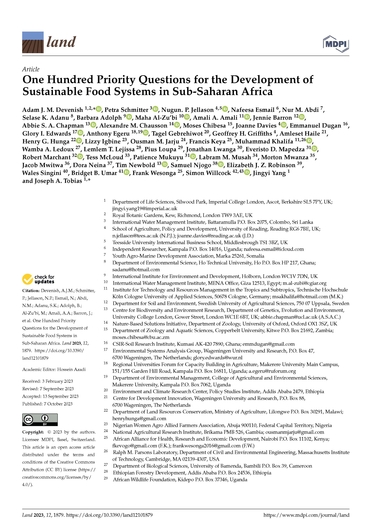 Devenish, A. J. M.; Schmitter, Petra; Jellason, N. P.; Esmail, N.; Abdi, N. M.; Adanu, S. K.; Adolph, B.; Al-Zu'bi, Maha; Amali, A. A.; Barron, J.; Chapman, A. S. A.; Chausson, A. M.; Chibesa, M.; Davies, J.; Dugan, E.; Edwards, G. I.; Egeru, A.; Gebrehiwot, T.; Griffiths, G. H.; Haile, A.; Hunga, H. G.; Igbine, L.; Jarju, O. M.; Keya, F.; Khalifa, M.; Ledoux, W. A.; Lejissa, L. T.; Loupa, P.; Lwanga, J.; Mapedza, Everisto D.; Marchant, R.; McLoud, T.; Mukuyu, Patience; Musah, L. M.; Mwanza, M.; Mwitwa, J.; Neina, D.; Newbold, T.; Njogo, S.; Robinson, E. J. Z.; Singini, W.; Umar, B. B.; Wesonga, F.; Willcock, S.; Yang, J.; Tobias, J. A. 2023.
One hundred priority questions for the development of sustainable food systems in Sub-Saharan Africa.
Land,
12(10):1879. (Special issue: Social and Environmental Trade-Offs in African Agriculture: Achieving Sustainable Development Goals)
[DOI]
More...
|
Fulltext
(1.62 MB)
---
Ongoing ProjectsCompleted Projects
Project
Contact
NEXUS Gains: Realizing Multiple Benefits Across Water, Energy, Food and Ecosystems (Forests, Biodiversity)
January 1, 2022 to December 31, 2024
Ethiopia, India, Nepal, Pakistan, Uzbekistan, South Africa