Adapting to the challenges of changing water availability
Water and climate are inextricably linked. It is largely through water that most people will 'experience' climate change for the first time: through unpredictable rainfall, droughts and floods, and the disruption this will bring to our food systems, drinking water supplies and our connectivity.
Ahead of COP26, IWMI will focus on the link and the importance of how best to manage increasingly unpredictable water resources, particularly in the countries where we work. We will bring ideas and discussions on a range of solutions and tools – technical, policy, financial, knowledge – that can support countries adapt to the challenges of changing water availability and quality.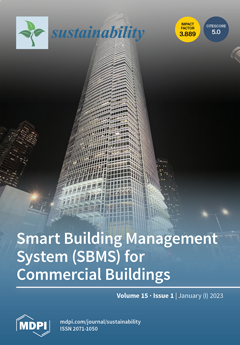 Mapedza, Everisto; Huyer, S.; Chanana, N.; Rose, A.; Jacobs-Mata, Inga; Mudege, N. N.; Tui, S. H.-K.; Gbegbelegbe, S.; Nsengiyumva, G.; Mutenje, Munyaradzi; Nohayi, Ngowenani. 2023.
Framework for incorporating Gender Equality and Social Inclusion (GESI) elements in Climate Information Services (CIS).
Sustainability,
15(1):190. (Special issue: Gender and Socially-Inclusive Approaches to Technology for Climate Action)
[DOI]
More...
|
Fulltext
(763 KB)
---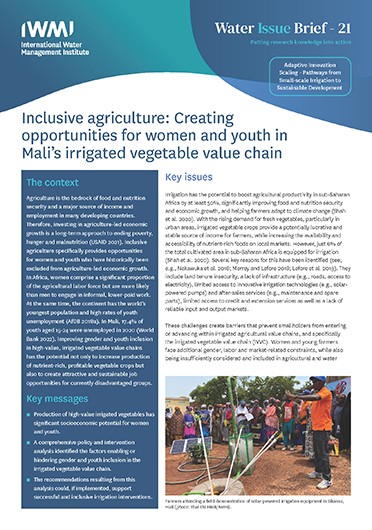 International Water Management Institute (IWMI). 2023.
Inclusive agriculture: creating opportunities for women and youth in Mali's irrigated vegetable value chain. Adaptive Innovation Scaling - Pathways from Small-scale Irrigation to Sustainable Development.
Colombo, Sri Lanka: International Water Management Institute (IWMI) 8p.
(IWMI Water Issue Brief 21)
[DOI]
More...
|
Fulltext
(1.24 MB)
---
Douville, H.; Allan, R. P.; Arias, P. A.; Betts, R. A.; Caretta, M. A.; Cherchi, A.; Mukherji, Aditi; Raghavan, K.; Renwick, J. 2022.
Water remains a blind spot in climate change policies.
PLOS Water,
1(12):e0000058.
[DOI]
More...
|
Fulltext
(1.49 MB)
---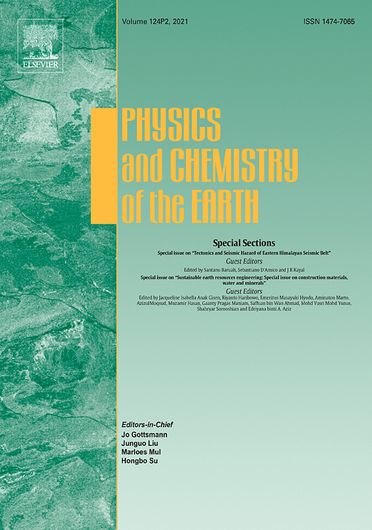 Ghansah, B.; Foster, T.; Higginbottom, T. P.; Adhikari, R.; Zwart, Sander J. 2022.
Monitoring spatial-temporal variations of surface areas of small reservoirs in Ghana's Upper East Region using Sentinel-2 satellite imagery and machine learning.
Physics and Chemistry of the Earth,
125:103082.
[DOI]
More...
|
Fulltext
(9.19 MB)
---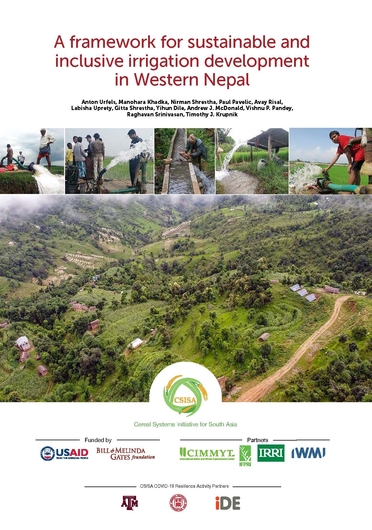 Urfels, A.; Khadka, Manohara; Shrestha, Nirman; Pavelic, Paul; Risal, A.; Uprety, Labisha; Shrestha, Gitta; Dile, Y.; McDonald, A. J.; Pandey, V. P.; Srinivasan, R.; Krupnik, T. J. 2022.
A framework for sustainable and inclusive irrigation development in western Nepal.
Kathmandu, Nepal: Cereal Systems Initiative for South Asia (CSISA) 78p.
More...
|
Fulltext
(3.12 MB)
---
Ongoing ProjectsCompleted Projects